Click here to read our weekly news sheet. You will need Adobe Acrobat Reader
but it is likely to be already installed on your computer.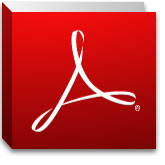 Click this icon to download Adobe Acrobat
The reverse of our news sheet is supplied by Redemptorist Publications of Chawton, Hampshire.
They have kindly consented to us including their weekly Sunday Link.
For more information see their website www.rpbooks.co.uk
Use CTRL and + to zoom in and CTRL and - to zoom out
You can send news for publication in our weekly news sheet by email to
ainsworthnews@hotmail.com . The deadline for each week is 8pm Friday